December 22nd, 2012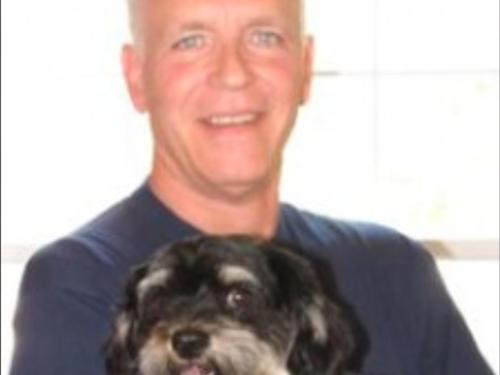 Traveling with your pet to St. Augustine? Here are some Holiday Travel Tips!*
Tips To Help Your Entire Family, Humans and Pets Alike Stress Less This Holiday Season!
By Faye Pietrokowsky- animal and people intuitive
www. inner-design.net
faye@inner-design.net
 The upcoming holidays are stressful for you and your beloved furry and feathery companions. For many of us, social, business and family commitments during this time of the year changes our routines. We may feel obligated to shop, cook, bake, host parties, visit people, purchase gifts, travel, socialize with people we may not like, worry about inclement weather and more.
All of these issues have their own challenges, problems and obligations. For example, cooking may entail shopping that may involve navigating through heavy traffic, standing in long and crowded store lines, choosing items to buy and spending money. Once you get home and start cooking, making tasty dishes can be worrisome and anxiety producing.
HOLIDAY CHALLENGES
Another holiday stress factor is holiday travel. This can include tension caused by inclement weather, traffic, expenses, being somewhere on time, etc.
Staying in a hotel, or staying with friends or relatives has its stressors as does having guests in your homes. All of these scenarios cause changes in daily routines.
We have less sunlight during these last days, causing depression for many people who need more light.
The end of the year can be emotional for people who remember and miss departed loved ones. This can be a trying time as people reflect on accomplishments and disappointments.
With all these possibilities, it is really no surprise that the last days of the year are difficult. You can almost be guaranteed that your beloved furry and feathery friend/friends observe changes in behavior and attitude. Some make exhibit similar behaviors and visibly display signs of withdrawing, clinging, changes in eating habits and behaviors, etc.
Pets are highly impacted by the demands of your holiday schedule. You may be home less. Your animals may not know guests or want others in their home. If you travel without them during this time of the year, change and stress are commonplace for humans and their companions.
HOLIDAY SUGGESTIONS
There are several things that you can do this holiday season to help and protect all members of your entire family. Here are some things that you can do.
1) Talk to your pets more. Your voice is familiar, reassuring and comforting to them. Talk to them about holiday parties. Let them know that you are having company over the house. They understand more than you realize.
2) Make sure that your animals are safe. If you are having holiday guests, consider leaving the animals in a place or they won't be disturbed or can't escape out a door or a window. Many pets do not want to be imposed upon and do not appreciate uninvited gestures of affection. Encourage guests to allow pets to approach them first.
3) If you are traveling with your pets, know that there are many pet-friendly hotels, motels, bed and breakfast businesses, etc. that have trained and pet-loving staff. In fact, some have a service offering to take care of your beloved pet while you leave the location to enjoy a movie, dinner at a restaurant, etc. If you choose one of these pet-friendly locations, don't be too surprised if there are dog and cat treats awaiting you and your beloved furry friend!
4) If you are traveling and leaving your pets a home, make sure that the person/persons who take care of e pets know and/or are familiar with their habits, personalities, etc. Many animals prefer to stay in their own home rather than go to another location.
5) Tell you pet/pets where you are going and when you will be returning. Think about them everyday while you are away from them. Time and distance is not a barrier for animals. They have a natural ability to sense their humans. They may just get your message!
December 17th, 2012
Top Ten Holiday Gifts in St. Augustine, Florida

Time is running out for buying really GREAT gifts for your friends and family. Why not consider these special At Journey's End Bed & Breakfast gift ideas…

#10 – Embroidered AJE House Robe – embroidered with the brightly colored At Journey's End Logo, this is a comfortable way to lounge around the house and still remember the good times here in St. Augustine.

#9 – Shannon O'Neil"s newly published novel – "I'll Be Home for Peacemas" A delightfully written first in a series of stories based in St. Augustine….and this one is personally signed by the author!

#8 – Hand-blown Glass Christmas Ornaments from our favorite arts and gift shop in St. Augustine – MetalArtz. The proprietors, Linda and Vic have personally selected this year's special ornament. Get them while they last!

#7 – Have a gourmand on your list to buy for? Try uniquely blended spices at the Hypolita Street based Tea & Spice Exchange. You will love what Colleen & Bob have in store for you there. I recommend the Sea Salt and Truffle Blend… a guest gave us some and now we are hooked…you will be too!

#6 – Set of 4 wine or champagne glasses etched with the unique At Journey's End B & B compass logo!

#5 – What else… but 5 Golden Rings…. okay that may be out your price range….but maybe a gift certificate to Cellar 6 a great little retaurant on Aviles Stree to try their outstanding gourmet offerings. (plus through December 31, I can hook you up with a 20% off coupon!)

#4 – A visit to the Villa Zorayda Museum for the holiday Candlelight Tour. This is really cool… a bit unusual… but oh my gosh its a special way to spend the holidays!

#3 – Don't sleep another night without the wonderful bed linens that we sell exclusively at At Journey's End B & B. They are our "Comphy Sheets". They come in a variety of colors and as one recent guest put it, "Its like sleeping in butter"! Wow… thats comphy!

#2 – Set of two beautifully hand-thrown pottery coffee mugs…designed exclusively for At Journey's End.

AND…. THE # 1 GIFT WORTH GIVING THIS HOLIDAY SEASON?

A Gift Certificate to At Journey's End Bed & Breakfast for use any time of the year. Come stay at our inn where you arrive as a guest…but you leave as our friend!

Contact us for pricing and how we can help get these gifts to you by Christmas! Happy Holidays to all!!

Tim & John

At Journey's End B & B

89 Cedar Street

St. Augustine, FL 32084

904-829-0076

email-contact@AtJourneysEnd.com
August 24th, 2011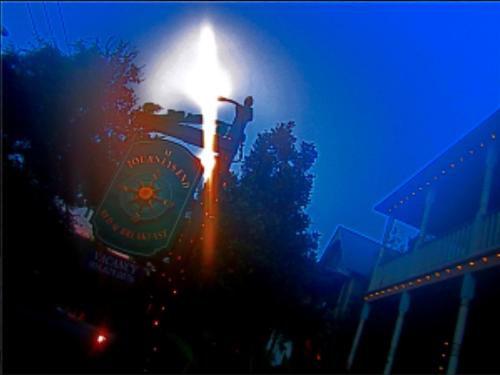 Unique Plant Blooms at the Inn
It happened one night just last week! The At Journey's End Bed & Breakfast garden came alive with the rare blooming of the 
Night-Blooming Cereus
 flower. The plant was an "Inn-warming" gift from our neighbors Starr and Bill. And, just as mysteriously as it bloomed at night, the next day the flower had already wilted and gone away!
Night-Blooming Cereus is the common name referring to a large number of flowering cacti. Because it seems to only bloom at night the flower has been romanticized as blooming only once a year or only at night when the moon is full. The plant has some other cool names such as
 Princess of the Night, Queen of the night orReina de la Noche.The flower is often referred to in books and romanticized by poets such as the one below.
The Night-Blooming Cereus
 by Harriet Monroe (1860-1935/United States)
Yet she loveth the world that forsook her, for lo! Once a year
She, Diana, translucent, pale, scintillant, down from her sphere
Floateth earthward like star-laden music, to bloom in a flower,
And our hearts feel the spell of the goddess once more for an hour.
Of course…you too can have a romantic get-away by booking a room at our great little inn.
At Journey's End B & B
 will help you plan your time away. Just give us a call. Of course we cannot guarantee the Night-Blooming Cereus will make an appearance…but we could order up some roses for you! Give us a call, 904-829-0076
July 30th, 2011
Flagler College Students Return in August
Flagler College
 students are gearing up for the 2011 Fall Semester on August 27 when new student orientation begins. A whole series of events kick off the academic year including completing final registration, dorm move-in and new student advisement meetings. The fall semester classes begin on August 31.
During the dorm move in weekend we see lots of activity on Cedar Street the home of the Men's Freshman Dorm and At Journey's End Bed and Breakfast. The Inn sees lots of activity too with it becoming the home base for a number of parents dropping off their students. The B & B's common room is full of conversation amongst parents discussing how they think their sons and daughters will make the adjustment to living on their own. "It's fun to be part of this big moment", says Tim Millbern, At Journey's End innkeeper. "At the end of the move-in day, most parents are exhausted and relax at the inn with a glass of wine!"
The Bed & Breakfast hosts a number of parents throughout the student's freshman year. While the parting seems final in nature, it's only a short two months until parents return for family weekend in October.
At Journey's End B & B is located across the street from Flagler College and has a 
special offer 
for Flagler College families. Check out their web site at 
www.AtJourneysEnd.com
July 27th, 2011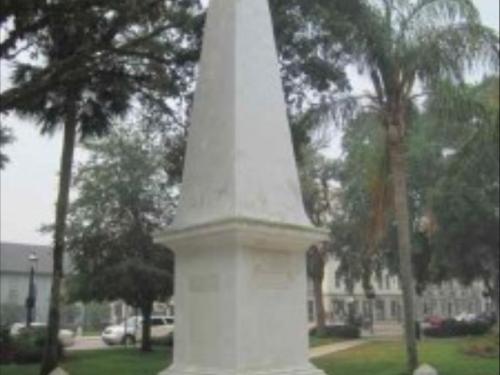 Plan Ahead for St Augustine's 450th Birthday Celebrations
As the Nation's Oldest City prepares for the once in a lifetime 450th Birthday celebration, exciting plans are developing. Not only has a Blue-Ribbon panel been appointed by the United States Department of Interior to organize the multi-year celebration but private ventures are also developing their own events.
Here is an outline of what each of the forthcoming years' celebrations will center around:
Year 2012 – 200thanniversary of the Spanish Constitution, memorialized in St. Augustine's Plaza de la Constitution

Year 2013 – 500th anniversary of Ponce De Leon's discovery of Florida, reflected in our Fountain of Youth National Archeological Park

Year 2014 – 50th Anniversary of the St. Augustine civil rights movement and the role our City played in the movement.

Year 2015 – 450th anniversary of the founding of St. Augustine, our nation's oldest continuously occupied European settlement.

As you can see there will be a lot of possibilities for celebrations, festivals, and other events in our wonderful city. You may want to begin considering when you will want to visit St. Augustine to participate. Once official events are planned, it is anticipated that 
accommodations 
in the historic downtown will go fast.
The "Star-Spangled Committee" appointed by the Secretary of Interior Ken Salazar suggested at their first organizational meeting that "having a king, queens, and Pope attend are a real possibility. "If that's the case, said John Gallagher, owner of At Journey's End Bed & Breakfast, " we're going to have to find ways to add more rooms to our Inn…and fast!"
Other exciting plans include the building a replica of a 16th Century Spanish Chalupa (an open boat fitted with oars and sails) honoring St. Augustine's maritime history. Additionally, another replica sailing vessel, the Galvestown is being built in Malaga, Spain and will be available for viewing during the 450th celebration at the 
St. Augustine Lighthouse and Museum
.
June 16th, 2011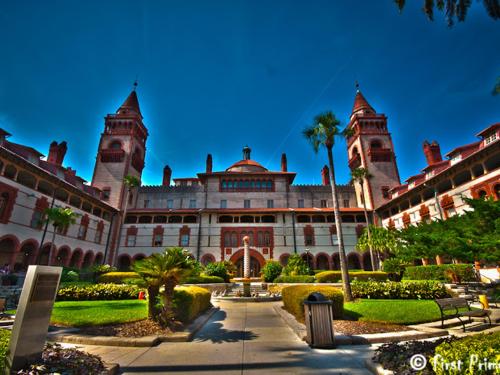 Flagler College Receives Historic Preservation Grant
 Known for its beautiful campus and historically important buildings, Flagler College recently received funding of over $60,000 to be used for restoration and rehabilitation of the Flagler Room. This room was once known as the Grand Parlor when Henry Flagler built the Hotel Ponce De Leon and is now used as the main college building. There are gorgeous ceiling murals, originally created by George W. Maynard in the early 19th Century are part of the restoration project. The room is also home of the largest collection of Tiffany Stained Glass windows still in their original use. The 
Flagler Legacy Tour
, which includes these rooms and more, is a "must-see" by visitors to St. Augustine, Florida.
Coming to visit St. Augustine? 
Stay 
at TripAdvisor's #1 Rated Bed & Breakfast, At Journey's End B & B. Located only steps away from Flagler College, it's perfectly located and only steps from all of the attractions, shopping and wonderful restaurants.
Have a Student at Flagler College? We are located across the street from the Cedar Hall Dorm, Auditorium and College Gymnasium.*Here is a recent review from a Flagler College Parent:
"Best Place to Stay When Visiting Flagler College"
Reviewed May 1, 2011
At Journey's End provides everything a good B&B should: clean, comfortable rooms and beds, delicious breakfasts, and a friendly atmosphere. In addition, its location is ideal for visiting a student at Flagler College, a mere block away, or enjoying the sights, shops, and restaurants of old St. Augustine, which are within easy walking distance. Parking in the town can be a problem, so this is a big plus. The best thing about At Journey's End, however, is the amazing hospitality of the owners, Tim and John. They truly treated us like personal guests, and were eager to help with reservations and sightseeing plans. We were in St. Augustine to attend our son's graduation from Flagler College, and Tim and John served our breakfast 2 hours ahead of the regular time, then surprised us with a warm cake, coffee, and card for the graduate afterwards. It was like celebrating with friends. This inn deserves its top rating.
May 24th, 2011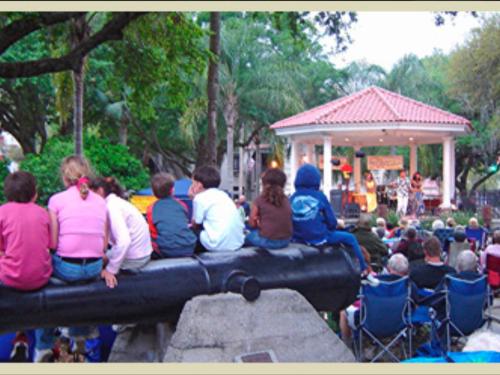 St. Augustine's 2011 Summer Concerts in the Plaza

Reminiscent of days gone by when friends and families would gather in the early evening to listen to music in the town square, Concerts in the Plaza brings a wide variety of musical entertainment to St. Augustine's historic downtown all summer long. Bluegrass and blues, jazz and country, swing and folk, old-time and popular rock: Concerts in the Plaza have something for everyone.

This year Concerts in the Plaza celebrates more than two decades of great entertainment in a great place. The series has been called "the best way to spend a Thursday night in St. Augustine," and it's easy to understand why when you're sitting under the majestic oaks of the Plaza de la Constitución enjoying quality musical entertainment.

The concert season starts with an afternoon performance from 1 to 5 p.m. on Memorial Day presenting the St. Augustine Jazz Society.

The concerts continue all summer long on Thursdays at 7 p.m. and concludes, as does summer, on Labor Day with another afternoon performance.

All concerts are free and if you are a guest at At Journey's End Bed & Breakfast, we will provide you with lawn chairs for seating. Picnic dinners are popular and At Journey's End B & B innkeepers can recommend some great little restaurants and shoppes that provide picnics for attendees.
May 20th, 2011
Drake's Raid – 425th Anniversary Battle Reenactment on June 4, 2011

Back in 1586 Sir Francis Drake with 23 ships and 2,000 Englishmen approached the Spanish harbor of San Augustin and conducted what was called "Drake's Raid". He and his men burned and sacked the town. Now, 425 years later, the 25 annual reenactments of the raid will be presented.

It will be a fascinating demonstration with a 16th Century military encampment, drills and true living history interpretations beginning at the Fountain of Youth Park.
Demonstrations begin on June 4th, 2011 at 10 a.m. to 5 p.m. culminating with the reenactment of the historic sack and burning of St. Augustine beginning at the City Gates and proceeding down St. Georges Street to the City Plaza. The "Sack begins at 7 p.m. and you won't want to miss the colorful characters, the burning torches and musket firings.
This living history event is hosted by companies of the Historic Florida Militia, the Men of Menedez and Drake's Men.
St. Augustine, Florida… the oldest city in America is a great place to visit and experience history like never before. While here, enjoy the outstanding cuisines of our independent restaurants, wonderful shops and great Bed and Breakfasts like 
At Journey's End B & B
!
See you soon,
Tim & John, Innkeepers
May 11th, 2011
Oldest House Museum Exhibits Maps of Florida History
Today we have Google Maps, Google Places and MapQuest. But, 500 years ago maps showed a version much more difficult to navigate than today's version.
The 
St. Augustine Historical Society
 along with the Oldest House Museum recently opened a new exhibit showing over five centuries of history from our region of North Florida.
This exhibit is a fascinating look into the past including some years prior to Ponce de Leon's discovery of Florida.
For history buffs, this is a must-see exhibit when visiting St. Augustine. It is located at the Oldest House Museum Complex, 271 Charlotte Street, St. Augustine, Florida. The museum is open daily from 9 a.m. to 4:30 pm.
NOTE: For those staying at At Journey's End Bed & Breakfast, the museum is only a 5-minute walk!
March 12th, 2011
Trademark Lions Return to Bridge in St. Augustine, Florida
On Tuesday, March 15th the Bridge of Lions will finally see the return of its trademark lion sculptures. After 6 years of restoration, the Lions will be placed on their pedestal for all to see.
Can't wait for their return? Come see to At Journey's End Bed & Breakfast and see our miniature replicas guarding the front door of the inn. While you're there it just may be the right time to make reservations for your next overnight stay at the inn.
The City of St. Augustine made several suggestions on ways to celebrate the Lion's return:
Visit the empty slabs and take a picture of the "before" and then return after they are mounted and take the "after" picture. A great keepsake!

Watch the movies "Lion King", "Clarence the Cross-Eyed Lion" or other MGM movies!

"Like" the Bridge of Lions Facebook page…or "Like" our Inn's own Facebook page!

Bring along someone who has never seen the Lions and share the grandeur of these magnificent sculptures. Of course you could spend the night with us At Journey's End B & B!

Lot's of ways to celebrate the return! Have fun!
March 9th, 2011
Celtic, Seafood & Minorcan Festivals in St. Augustine…So Much to Do!
St. Augustine, Florida is THE place to be this weekend. Irish music and St. Paddy's Day Parade along with outstanding food and ethnic cultural events make for an interesting weekend and week ahead. Why not stay a few days in the Ancient City and attend these great events? At Journey's End Bed and Breakfast, the #1 Rated Inn in St. Augustine on TripAdvisor.com would love to host you while you explore this variety of special Festivals. Some rooms are still available! 
Book now!
And, here are the events:
ST. AUGUSTINE'S CELTIC FESTIVAL – March 11-13.
Celebrate Celtic heritage at this Romanza-sponsored festival featuring some of the greatest living musicians, artists, writers and poets from Ireland, the U.S., and the Celtic region of Spain (home of St. Augustine's founder).
For complete details on performers, schedules and ticket prices, go to 
www.RomanzaFL.org
.
ST. PATRICK'S DAY PARADE – March 12
Get your Celtic Saturday off to an early start with an exciting and colorful St. Patrick's Day Parade through the streets of historic St. Augustine. Part of the Celtic Music and Arts Festival, the parade will begin at 10 a.m. at the corner of King and Cordova Streets, head east to Avenida Menendez, then north to Orange where it will travel west to Cordova and then south to King.
30th ANNUAL LIONS CLUB SEAFOOD FESTIVAL – March 11-13.
Get ready to eat some great seafood, shop till you drop and then tap your toes to live music! The Lions Club Seafood Festival takes place at Francis Field on Castillo Drive in St. Augustine. Festival hours are Friday 3 to 9 p.m., Saturday 10 a.m. to 9 p.m. and Sunday 10 a.m. to 5 p.m. All proceeds benefit Lions Club charities. Admission is $2 per person, children under 12 are free. For more information, visit 
www.lionsfestival.com
.
MENORCAN HERITAGE CELEBRATION – March 12
Come learn about this unique cultural heritage found in St. Augustine. The Menorcan Heritage Society will hold their annual celebration from 10 a.m. to 3 p.m. at the historic Llambias House, located at 31 St. Francis Street in St. Augustine. There will be demonstrations of mullet net making, dance performances, and story telling by Menorcan descendents. There will be t-shirts books and foods for sale. Admission is free.
Guests of At Journey's End B & B receive personal concierge advice and suggestions about all of these fun events. Call 904-829-0076 for room reservations.
February 23rd, 2011
Inns on Cedar Street, St. Augustine Are Top B &B Location
With over thirty bed and breakfast located in St. Augustine, Florida, only four have garnered top media coverage over the last several months. Located on a quiet tree-lined side street in the historic downtown district; Cedar House Inn, Penny Farthing Inn, Peace and Plenty Inn and At Journey's End Bed & Breakfast have all received amazing media attention.
Featured on HGTV, Peace and Plenty Inn was the subject of the popular "If These Walls Could Talk" Series while the British themed Penny Farthing Inn received a mention in a Southern Living Magazine article about destination St. Augustine.
But the inns that bookend the street, Cedar House Inn and At Journey's End have both received significant attention in the media as "Best of St. Augustine" and as the #1 rating on TripAdvisor.com respectively.
The St. Augustine Record newspaper recognized the Cedar House Inn as the Best of St. Augustine for three years in a row. No other inn has been so recognized by the local newspaper.
At Journey's End was rated by their guests as the #1 Top Rated Bed and Breakfast in all of St. Augustine by 
TripAdvisor.com
with a 5-Star rating. Atlanta Magazine also recently made mention of At Journey's End in their monthly travel section.
So, if you are traveling to St. Augustine to enjoy the history of the oldest city in America, the wonderful cuisine of outstanding restaurants or shopping along the city's quaint streets, check out the Inns on Cedar Street for outstanding, unsurpassed hospitality.
At Journey's End Bed & Breakfast - 89 Cedar Street, St. Augustine, FL 32084 Telephone – 904-829-0076
February 13th, 2011
Top 10 Bed and Breakfasts in Florida
At Journey's End Bed and Breakfast was named in the top ten bed and breakfasts in the State of Florida by "Best of America" web site. Rated as the #2 Inn in the entire state and as the #1 Inn in St. Augustine, the hard work of innkeepers Tim Millbern and John Gallagher has paid off.
After only 14 months of ownership, Millbern and Gallagher have dedicated their efforts to improving the overall service offered at their St. Augustine Bed and Breakfast. With some Inn's rooms already redecorated to the innkeeper's own casual but elegant tastes, they now offer luxurious Comphy Sheets on their brand new pillow top mattresses, "all-day long" happy hour for guests and specially prepared gourmet breakfasts. Millbern, the cook of the two innkeepers, says he tries very hard to add some unique touches to each breakfast he prepares while Gallagher has re-worked the Inn's garden area with his new landscape designs. John says, "it's a work in progress with new plantings and hardscapes added all of the time."
The rating as one of the top ten inns comes from a tally of all of the guest's reviews. "We owe the honor to our wonderful Guests who over the past year have given us remarkable reviews on sites such as 
TripAdvisor
", says Millbern. "We actually have to give our Guests the real credit… and much appreciation!"
You can read the web articles at:
http://www.americasbestonline.com/usa/fl/st/best-bed-and-breakfast-inns-in-florida/
and also at
http://www.americasbestonline.com/usa/fl/city/best-bed-and-breakfast-inns-in-saint-augustine-fl/
You can make reservations for At Journey's End B & B on our web site at www.AtJourneysEnd.com
January 31st, 2011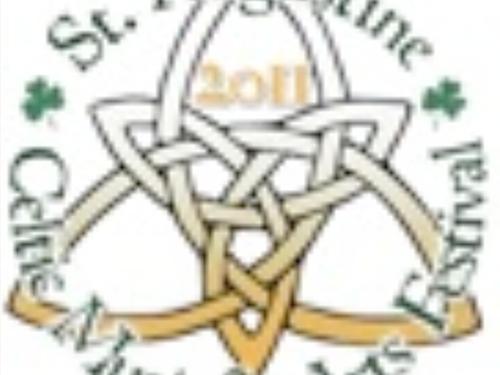 St. Augustine Celtic Music and Arts Festival Coming in March
 The first ever St. Augustine Celtic Music and Arts Festival is slated to take place March 11-17, 2011. Internationally acclaimed, Benny O'Carroll of Dingle, Ireland, is directing the event.
The Festival will include musicians, artists, writers and poets from Ireland, the United States and the Celtic Region of Spain. This is a weeklong event honoring the great traditions of music, literature and dance; begins with a huge Parade on March 12 at 10:00 am and concludes the following weekend with the ultimate party…St. Patrick's Day!
St. Augustine's historic district is the perfect setting for this event with its unique shopping district, horse drawn carriages and of course the famous centuries-old Spanish Fort.
This event will certainly draw big crowds for the week long celebration. For lodging during the Celtic Festival, why not book now at TripAdvisor's #1-Rated Bed & Breakfast in all of St. Augustine…At Journey's End B & B! We look forward to this great event! A related website for the St. Augustine Celtic Festival is 
www.romanzafl.org
Some of the music highlights (SEE A SAMPLING OF THEIR MUSIC BELOW) include:

FROM SPAIN:

Hevia (Aviles, Spain)

FROM IRELAND:

Benny O'Carroll's Traditional All Ireland Band

4 Men and A Dog - Traditional

Dublin City Ramblers - Traditional

Pat Coldrick - Classical

Timmy the Brit - Irish Dancing

Hugh O'Neill - Artist

Sean Murphy - Traditional

FROM THE U.S.:

Black 47 (NY, New York) Irish Folk-Rock

Rathkeltair (Jacksonville) Celtic Rock

7 Nations (Orlando) Celtic Rock

Pipe and Drum Corp Traditional

Wobbly Toms and other regional Celtic bands 
January 15th, 2011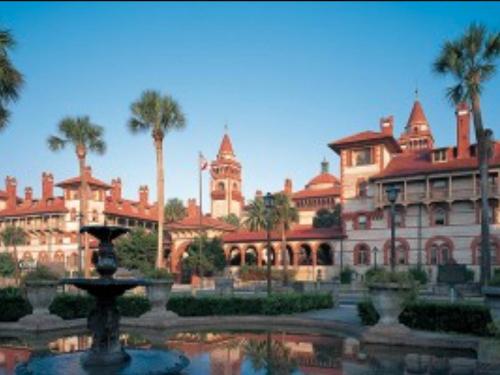 Atlanta Magazine Highlights St. Augustine
 St. Augustine, FL was highlighted in the Travel Section of the January, 2011 issue of Atlanta Magazine. Mentioning the lure of history, architecture, and romance, At Journey's End Bed & Breakfast, was proud to be listed as the B & B place to stay.
Things to DO in the article were Castillo de San Marco National Monument and the 
Dow Museum 
of Historic Houses along with the 1740′s tavern the Taberna del Gallo.
Places to EAT highlighted three of my favorites… the 
Tasting Room
, 95 Cordova and 
Cap's on the Water
. Our inn sends lots of folks to the Tasting Room and one of our guests claims Cap's as "the best seafood and best atmosphere in the whole State of Florida". I am not so sure about that… but it is indeed one of my absolute favorites… because you can't beat the sunset at Cap's!
submitted by: Tim Millbern, Innkeeper
August 18th, 2010
St. Augustine B&Bs Bring First Live Webcam to Nation's Oldest City
The Webcam, located just around the corner from At Journey's End B & B, provides a live window on the formal plaza gardens, fountain, and streetscape outside what was originally the grand Alcazar Hotel. Built in 1887 by Henry Flagler, the Spanish Renaissance-style structure is listed on the National Register of Historic Places. The former luxury hotel now houses the Lightner Museum and St. Augustine City Hall offices.
The plaza and King Street thoroughfare visible online are a hub of activity, surrounded by other historic structures, including the former Ponce de Leon Hotel, another National Register site built in the 1880′s by Flagler, which has housed Flagler College since 1968.
The Web cam allows viewers to see in real time the swaying palm trees, ambling horse-drawn carriages and strolling visitors around the formal plaza gardens and fountain. Coming soon will be the addition of a control that will let visitors to the Website manipulate the camera for different views. Special events, such as the wintertime Nights of Lights celebration, will enliven the scene from time to time. So check back often!
CLICK HERE TO SEE THE WEBCAM IN ACTION
. Also while on the site check out the coupons from the various advertisers. At Journey's End Bed & Breakfast wants to make your visit to St. Augustine… affordable, fun… and the very best visit possible!
St. Augustine, founded by Spain in 1565, is the nation's oldest city continuously populated European settlement. For more information about St. Augustine Historic Inns and Florida's History Coast visit www.staugustineinns,com and www.getaway4florida.com…or see our website AT JOURNEY'S END B & B !