At Journey's End B & B Owner Dies of Cancer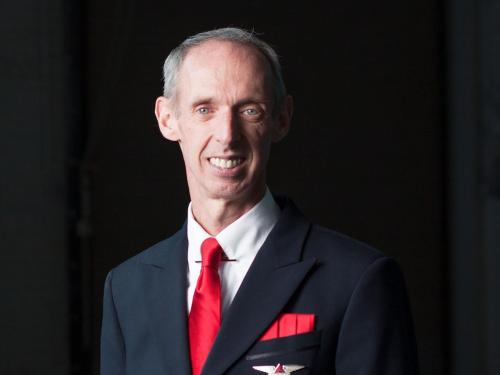 September 28, 2014
The St. Augustine bed and breakfast world lost one of their own on September 9, 2014.  
At Journey's End B & B
 co-owner, John Gallagher, Jr. died after an amazingly courageous two and a half year battle with colon cancer.
It is clear that John was someone well respected and loved. He thoroughly enjoyed his work both in the airline industry and as an innkeeper.
John fought his cancer with every last ounce of strength he had and wanted no one to have sympathy for him. When asked about how he was doing, he always replied cheerily..."Good. And you??" He never really wanted others to focus on the cancer. Because, of course, he was going to beat it!!
The AJE Innkeepers, John and Tim often joked about the current "Stay Calm" posters and fad...including their Inn's own version, 
"KEEP CALM AND DOILY FREE"
!  However, John and Tim were never really "keep calm" kind of people...more like Stay Crazy types!! Nonetheless, they came up with their own:
KEEP CALM
and
GET A COLONOSCOPY
We will all miss John. And, since 
At Journey's End
 was one of John's dreams come true, Tim Millbern and staff are ever-so determined to keep that dream alive and successful! We invite you to visit our bed and breaklfast to not only experience the highest quality of lodging and hospitality, but also to help continue John's legacy and love of 
At Journey's End.
John's obituary, as it appeared in the 
St. Augustne Record
 on September 18th is below.
John J. Gallagher Jr.John Gallagher Jr., 56 passed away at the Bailey Family Center for Caring on September 9, 2014 after a courageous battle with cancer. Born in Brooklyn, NY, he travelled the world extensively as a member of a career military family. John graduated from the Bel Air (Hartford County), Maryland High School and attended University of Maryland majoring in Journalism.John lived an extraordinary life accomplishing things most people only dream of doing some day. Not only did he personally compete and become a national roller-skating champion in 1976, he went on to later coach several promising and award-winning students. John travelled the world first as a Flight Attendant for Flying Tigers transporting U.S. Military troops to the dangerous environs of the Middle East. He later became a Flight Attendant for Federal Express and then with Northwest Airlines, which later merged with Delta Air Lines in 2008. During his flying career he was elected by his colleagues to represent them in union negotiations, helping to bring Northwest out of bankruptcy and saving thousands of jobs from being eliminated. At Delta John established himself as the consummate professional becoming a respected instructor with the Delta Training Center in AtlantaFive years ago, John and his partner purchased At Journey's End Bed and Breakfast in St. Augustine, FL to fulfill yet another one of his dreams. With John's leadership, the Bed and Breakfast held the top spot on TripAdvisor.com for three years and was named one of the Top 25 Inns in the United States in 2012. With his passion and love of gardening, he developed the inn's beautiful landscape that was recently highlighted in Prestigious Living Magazine.John is survived by his partner of 18 years, Timothy Millbern of St. Augustine, his mother Alice Gallagher of Viera, FL, his sister Kathy Nadeau of Old Saybrook, CT, a niece Jennifer McKenna (Jerry) of Boston, MA, a nephew William Nadeau (Janelle) along with their children Josephine and Rhys John of Madison, CT. His father, John Gallagher Sr. preceded him in death. John also leaves behind his rescue companion Morgan; and countless friends and colleagues who will miss John's kindness, generosity and most of all his sense of humor.A celebration of his life will be held on October 6 at the Colonial Quarter in St. Augustine. Memorial donations may be directed to the John Gallagher Fund, c/o At Journey's End Bed and Breakfast, St. Augustine, Florida.